OMA and Hassell completes top-heavy WA Museum Boola Bardip in Perth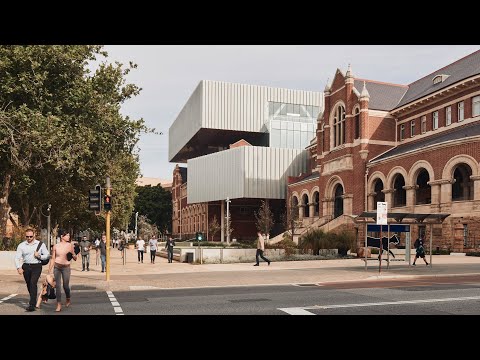 Architecture firms OMA and Hassell have renovated a group of old buildings in Perth, Australia, and stitched them together with protruding metal-clad structures to create the WA Museum Boola Bardip.

The top-heavy museum celebrates the history and contemporary culture of Western Australia and is intended as a new landmark for Perth Cultural Centre ? a group of cultural institutions in the city.

Read more on Dezeen: https://www.dezeen.com/"p=1590793

Video is by Michael Haluwana of Aeroture.
WATCH NEXT: Jean Nouvel reveals cave hotel in Saudi Arabia's AlUla desert - https://youtu.be/k31nneJFKYI

Subscribe to our YouTube channel for the latest architecture and design movies: http://bit.ly/1tcULvh

Like Dezeen on Facebook: https://www.facebook.com/dezeen/
Follow Dezeen on Twitter: https://twitter.com/Dezeen/
Follow us on Instagram: https://www.instagram.com/dezeen/
Check out our Pinterest: https://uk.pinterest.com/dezeen/

...
_MURLDELAFUENTE
https://www.youtube.com/user/dezeenmagazine
--------------------------------
CONCRETO EN SITU