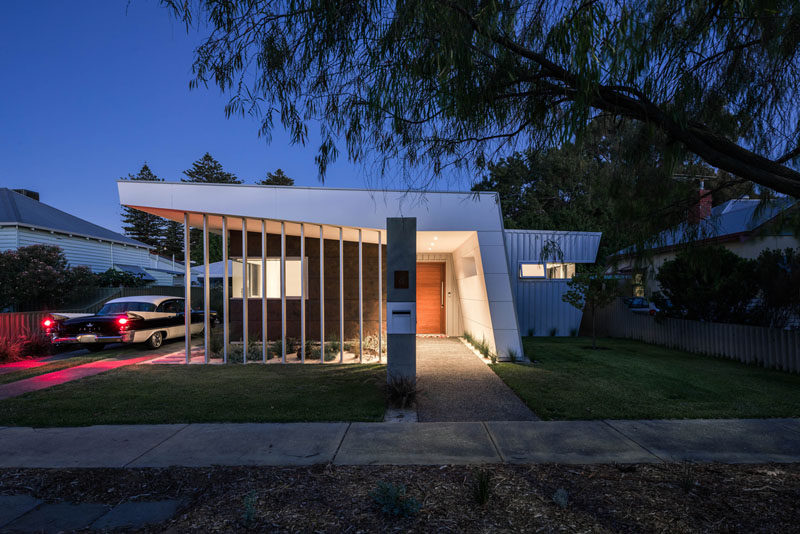 mishack. Have Designed A Modern Australian Home Inspired By The Kaufmann Desert House
Photography by Dion Robeson   Modular architecture firm mishack., worked together with their clients to design a modern home that was inspired by their deep love of mid-century architecture, and in particular, The Kaufmann House in Palm Springs...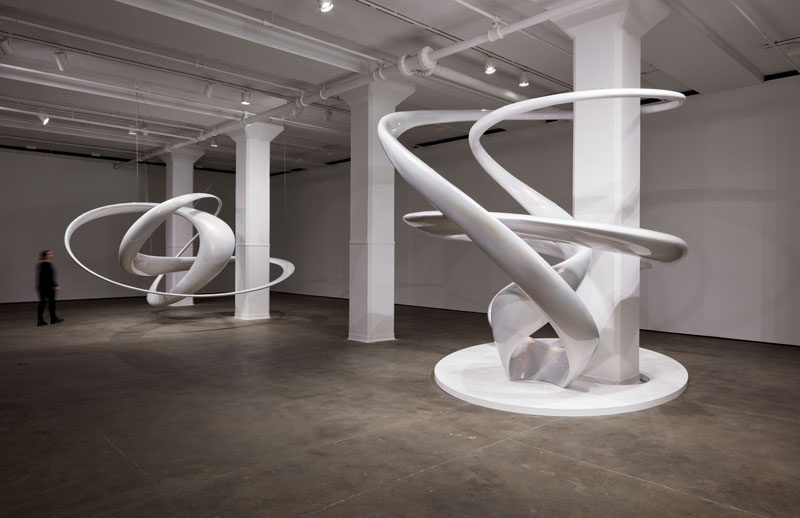 Mariko Mori Is Currently Showing ?Invisible Dimension? At The Sean Kelly Gallery In New York
Ekpyrotic String VI and Cycloid V © Mariko Mori | Photography by Jason Wyche, New York | Courtesy of Sean Kelly, New York   Contemporary Japanese artist Mariko Mori, is currently showing "Invisible Dimension", an...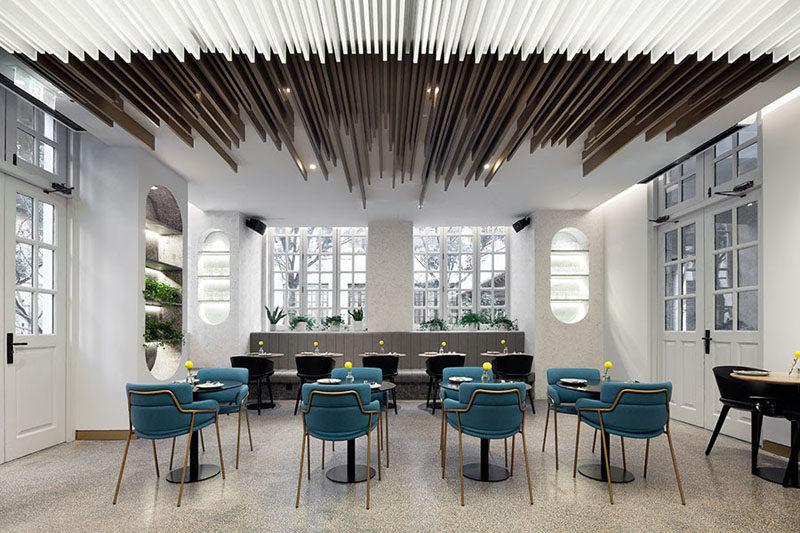 This New Restaurant And Cafe Is Located Inside An Old School Building In Shanghai
Photography by Coordination Asia   Coordination Asia have recently completed their latest collaboration with Gaga restaurants and cafés, that's housed inside a historic villa in the heart of Shanghai, China. Built in the late 19th...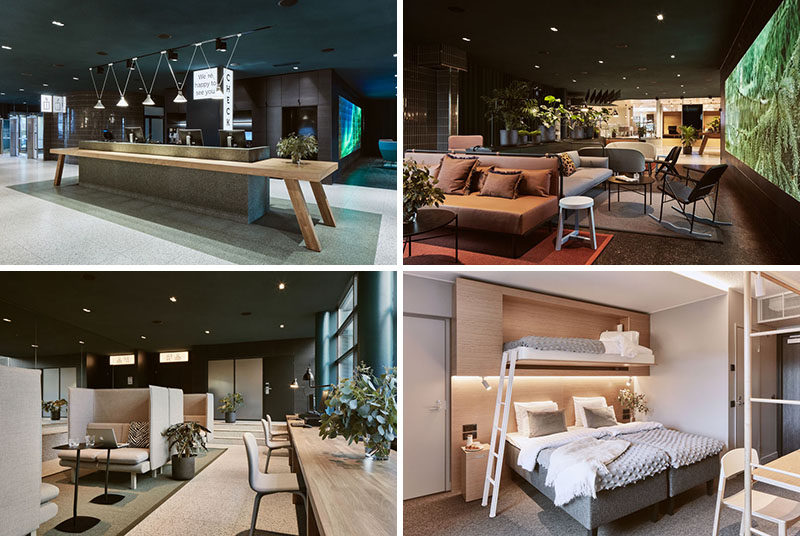 Fyra Interior Architects Have Redesigned The Cumulus Hotel In Finland
  Fyra, a Finnish interior design company, has recently redesigned the interiors of the Cumulus Resort Airport Hotel in Vaanta, Finland.   As guests enter the hotel, a large 'HELLO' welcomes them, before reaching the reception...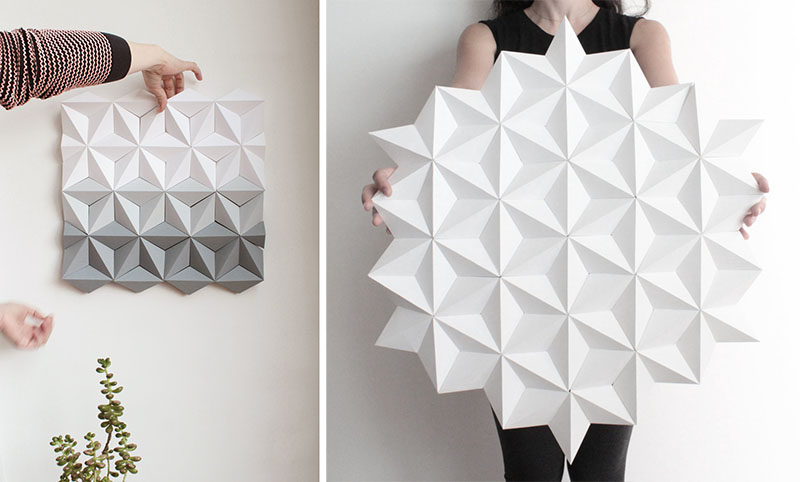 Kinga Kubowicz Has Created Moduuli, A Collection Of Geometric Origami Wall Art
  Kinga Kubowicz of KingKong Design Shop has created Moduuli, a collection of unique, modern and eye-catching geometric origami wall art.   Based in Barcelona, Spain, the designer makes the origami inspired wall art from individual paper...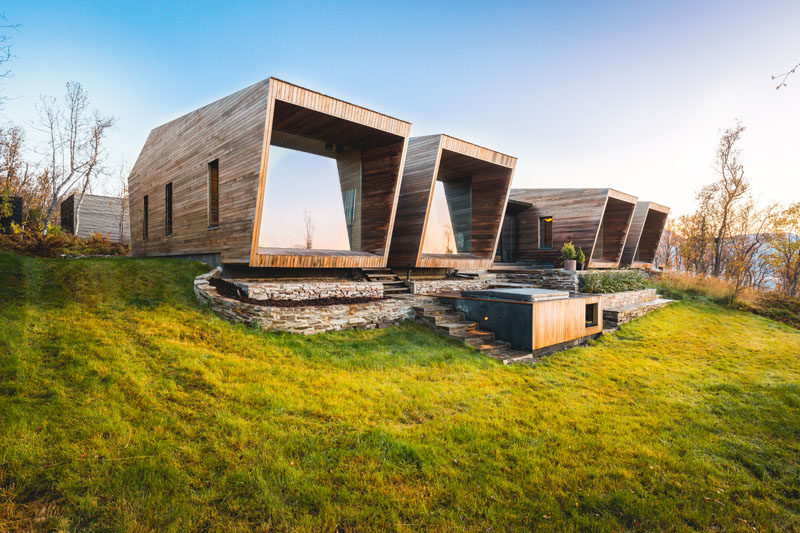 This House In Norway Was Designed With Many Opportunities For Views Of The Surrounding Area
Photography by Steve King   Stinessen Arkitektur have designed a modern house that sits on the Malangen peninsula in Norway, for a family and their visiting friends. The layout of the home involves several individual volumes connected via...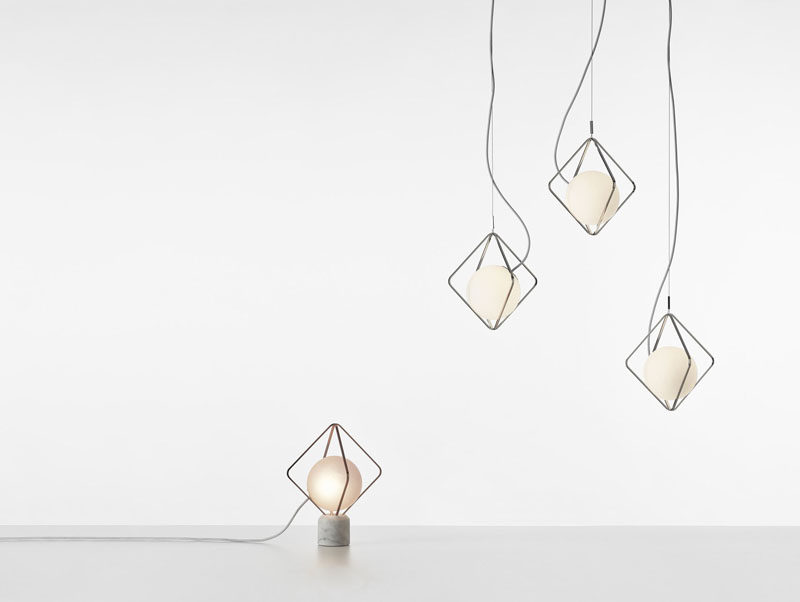 Lucie Koldova Has Designed Jack o?Lantern Lamps For Brokis
  Designer Lucie Koldova has created Jack o'Lantern, a modern lighting element that has metal frames with a 'pearl' placed within them. Designed for lighting manufacturer Brokis, the 'pearl' is a handblown matte...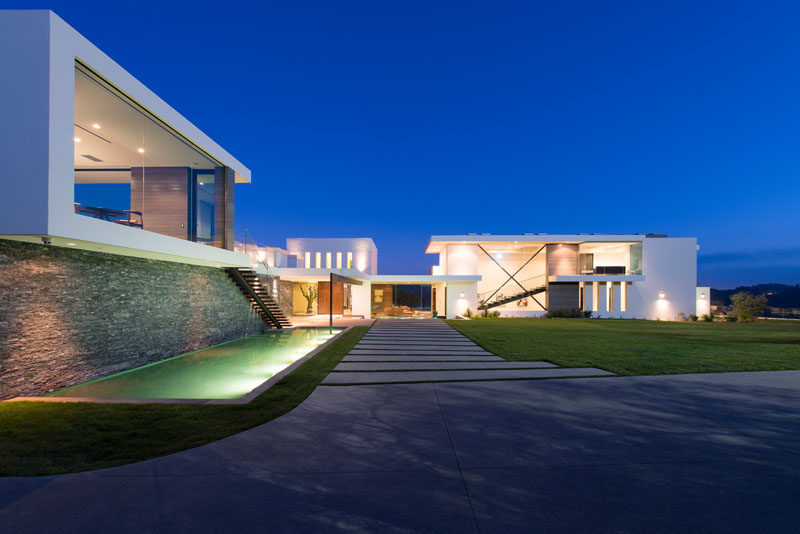 The Benedict Canyon Residence By Whipple Russell Architects
Photography by William MacCollum   Whipple Russell Architects have designed a modern house in Beverly Hills, California, that has views of the surrounding area.   A spiral driveway leads to the house, that required a 10-foot high retaining...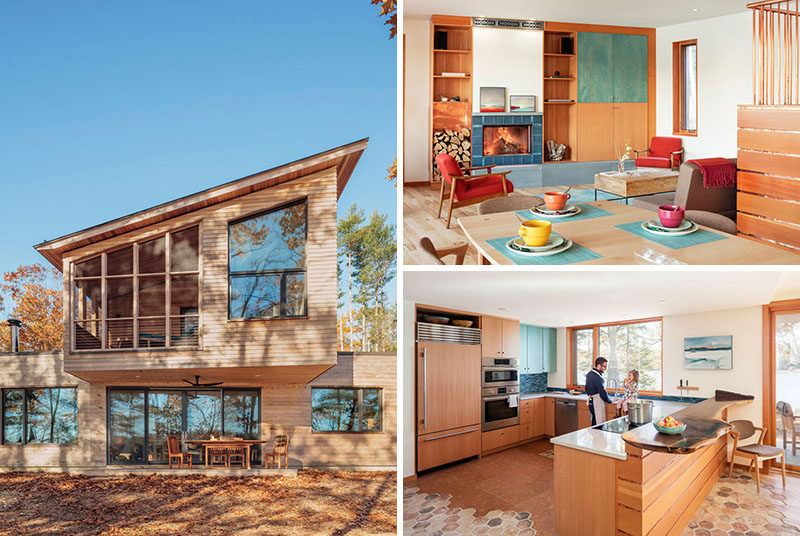 Long Reach Retreat By Kaplan Thomspon Architects
Photography by Irvin Serrano   Kaplan Thompson Architects have designed a new contemporary house in Harpswell, Maine, that sits by the water and features a cedar siding exterior with various textures that allow the house to melt away into the...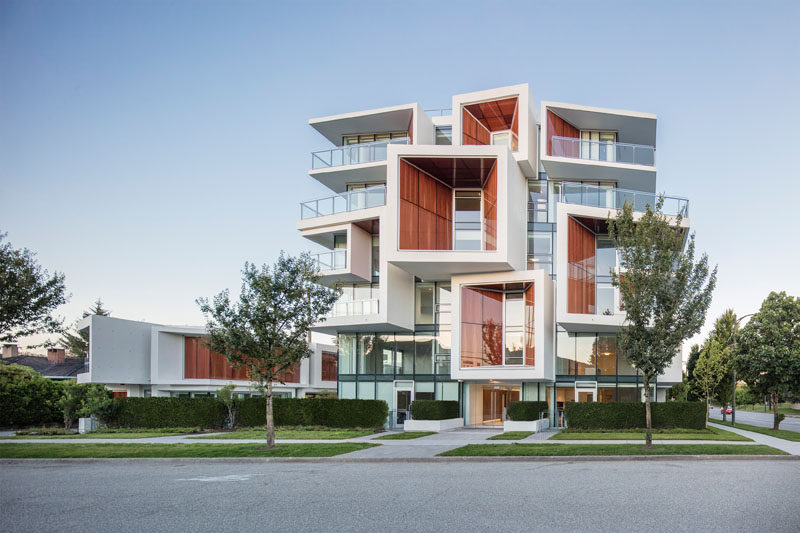 This New Building Features Wood That?s Been Framed Inside Glass Panels
Photography by Michael Elkan Photography   Arno Matis Architecture worked together with developer Buffalo Investment Canada, to design Aperture, a new multi-residential building in Vancouver, Canada. After two years of research and design, the...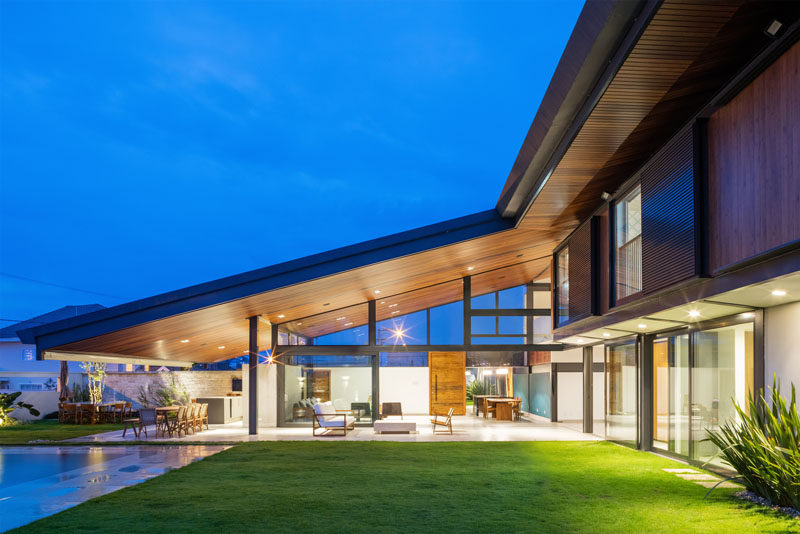 A Large Sloping Roof Is A Prominent Feature Of This New House In Brazil
Photography by Nelson Kon   Obra Arquitetos have designed a new modern house in Sao Paulo, Brazil, that has a large sloping roof that integrates the interior living spaces with the outdoor spaces.   At the front of the house, a path leads...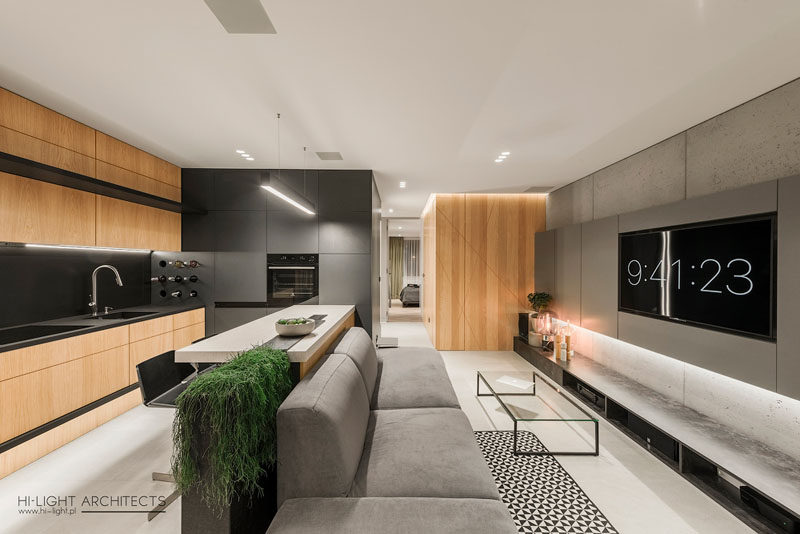 Hi-Light Architects have designed a modern apartment in Poland
Photography by Den Didenko   Hi-Light Architects have designed a modern apartment in Poland that features a neutral color palette with hidden lighting throughout. Stepping inside, the front door almost blends away into the wood accent wall with...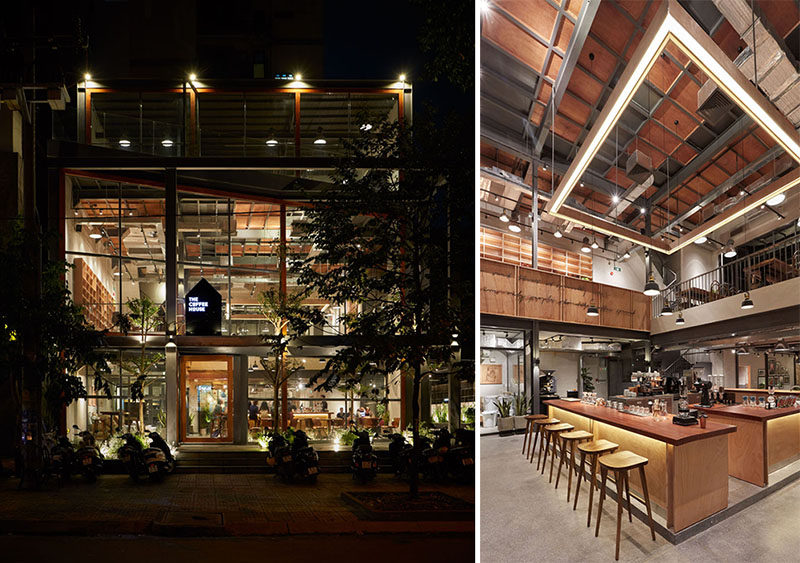 The Coffee House Signature By Bo Design & Construction
Photography by The Coffee House   Bo Design & Construction have recently completed The Coffee House Signature, the flagship store of The Coffee House, one of the most popular coffee chains in Vietnam.   Photography by The Coffee House...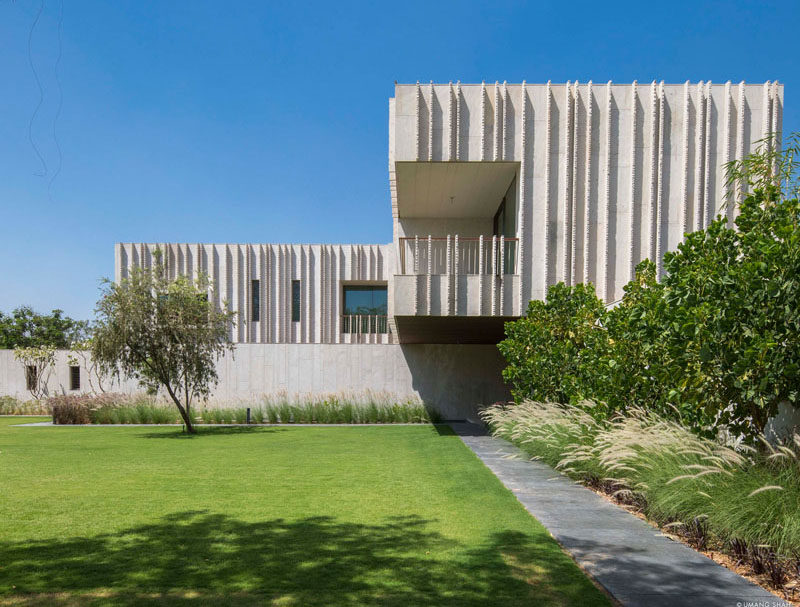 The House Of Secret Gardens By SPASM Design
  SPASM Design have recently completed a new modern house in Ahmedabad, India, that features an exterior of Dhrangadhra stone, and a simple cross layout.   To one side of the front door is a pond water feature that has a simple child-like...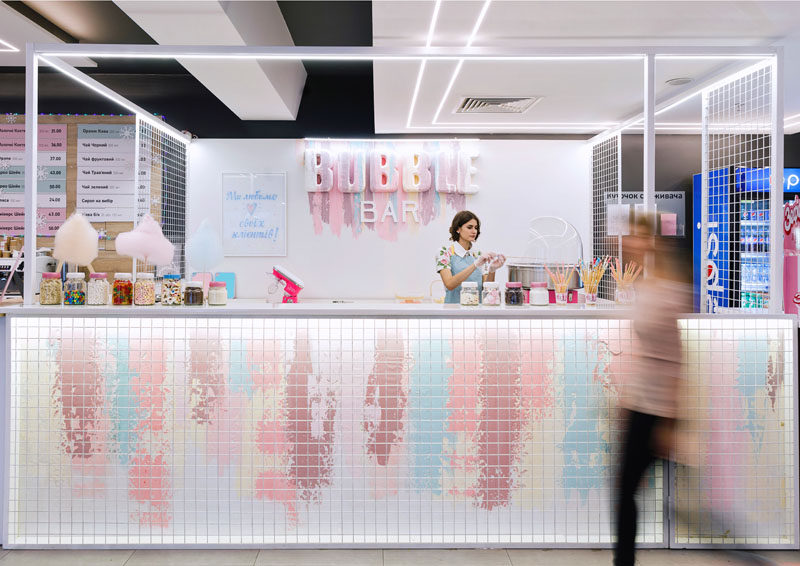 The Bubble Bar By LYSIUK architects
Photography by Iryna Gurtovenko   Iryna Lysiuk of LYSIUK architects has designed Bubble Bar, a small dessert bar in Lutsk, Ukraine, that specializes in waffles, ice-cream and candyfloss. The main design goal of the 107 sq ft (10sqm) space was...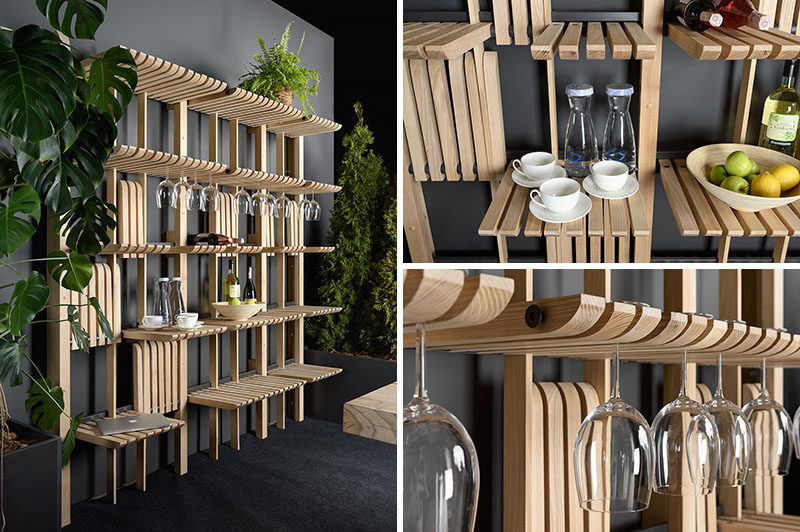 Artem Zakharchenko Has Designed A Versatile Wood Shelving System
  Artem Zakharchenko has designed the 'Gate' furniture system that consists of a wood shelving unit that can be used in a variety of ways. The shelving unit has movable wooden bars that are placed on a metal rod, enabling the...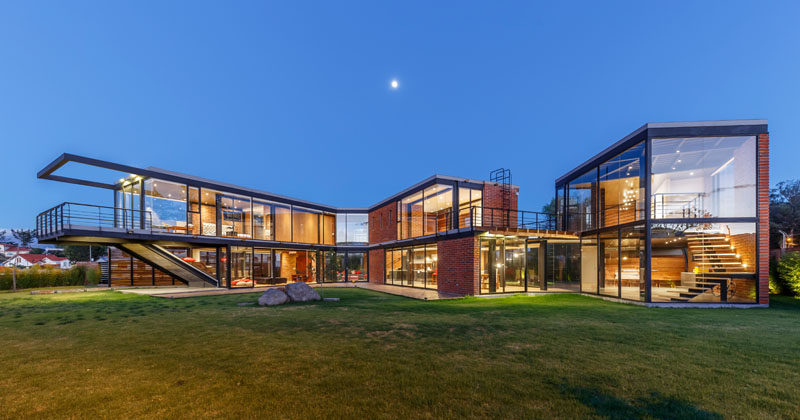 Casa Ortega By Estudio A0
Photography by Sebastián Crespo   Architecture firm Estudio A0, have designed a brick, glass, and steel house in Sangolquí, Ecuador, that has two pavilions, one for the client's own family and one for his parents.   Photography by...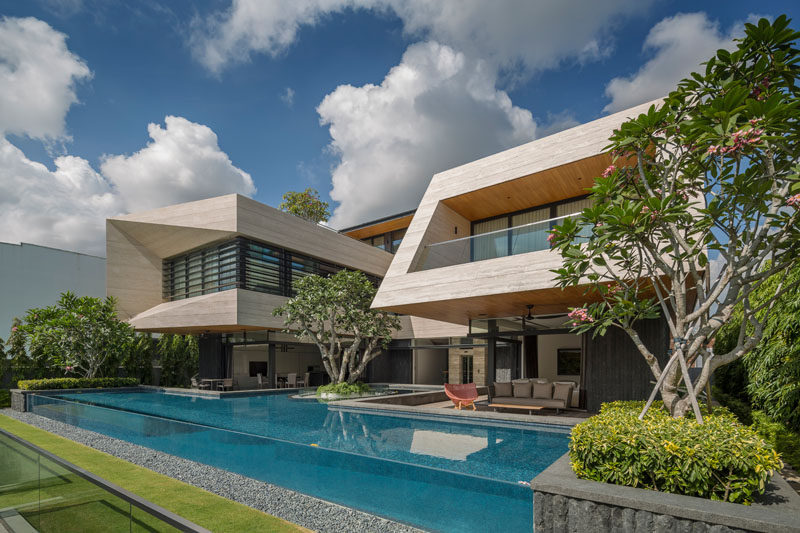 The Forever House By Wallflower Architecture + Design
Photography by Marc Tey Photography   Wallflower Architecture + Design have designed a modern house in Singapore, for a family that wanted to create their forever home.   The house, which sits 13 feet (4m) above street level, has a slate...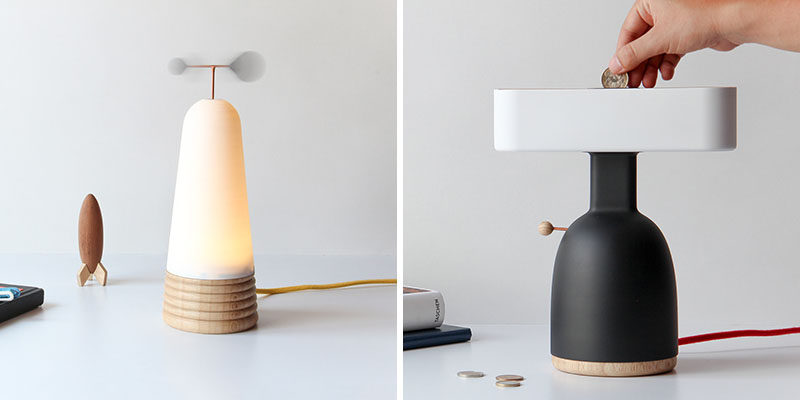 These Lamps Need Either Coins Or Wind To Operate
  Kelly Durango and Mauricio Sanin of MOAK Studio have created two lamps that need additional actions other than turning on a switch to work.   The first is the DINA Lamp, made from PLA (plastic filament), ash wood, and copper. The...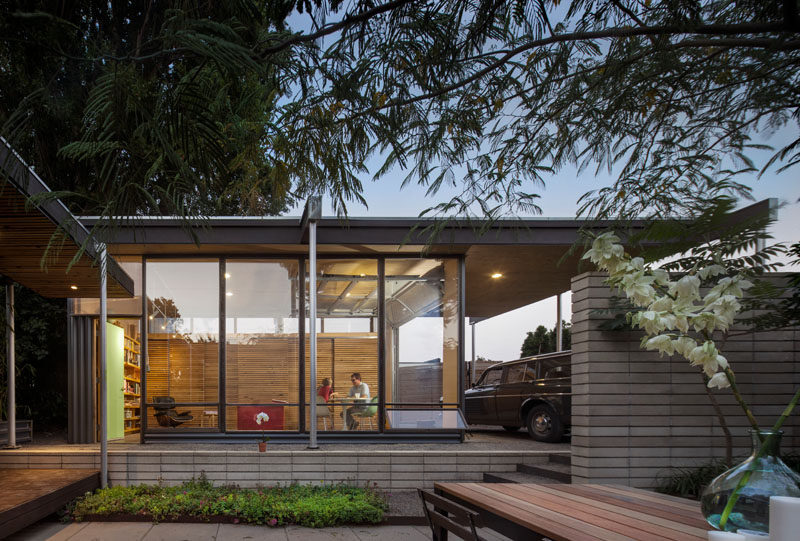 The Grasshopper Studio And Courtyard By Wittman Estes
Photography by Nic Lehoux   Seattle-based Wittman Estes, led by a husband-wife team, an architect and landscape designer, have designed the Grasshopper Studio and Courtyard in their own backyard.   Maintaining the small footprint of a...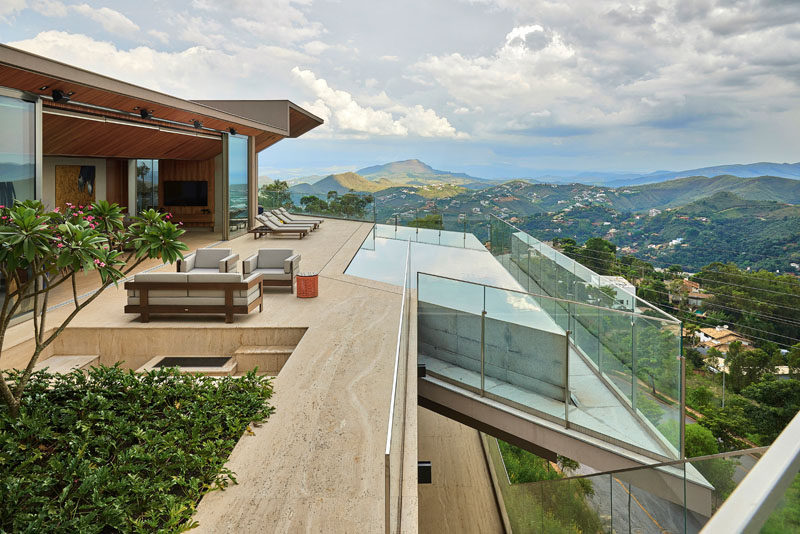 Anastasia Arquitetos Design A Home In The Mountains Of Brazil
Photography by Jomar Braganca   Anastasia Arquitetos have designed a new modern house in Nova Lima, a mountainous town near Belo Horizonte, Brasil.   Photography by Jomar Braganca A landscaped garden and path leads to the large steel front...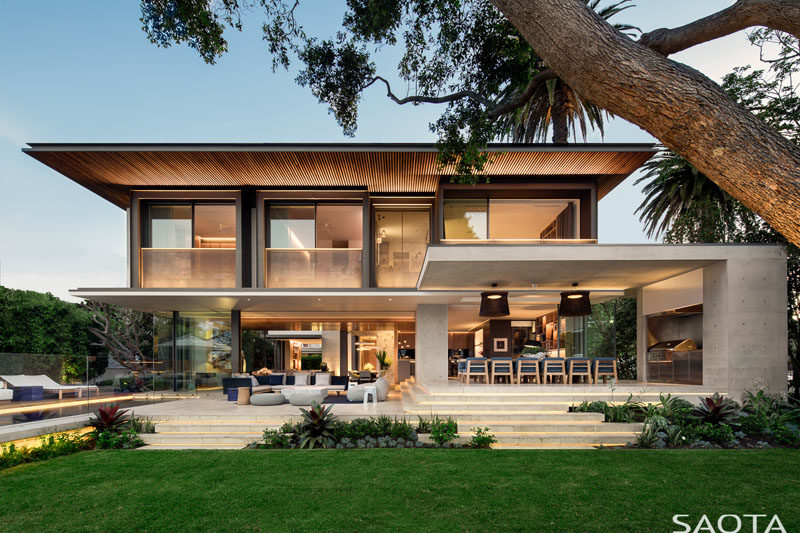 The Double Bay House By SAOTA
Photography by Adam Letch   Architecture firm SAOTA, have recently completed a new and modern family home that's set in a north-facing cove in Sydney, Australia's harbour.   On the facade of the house, graphite grey sail...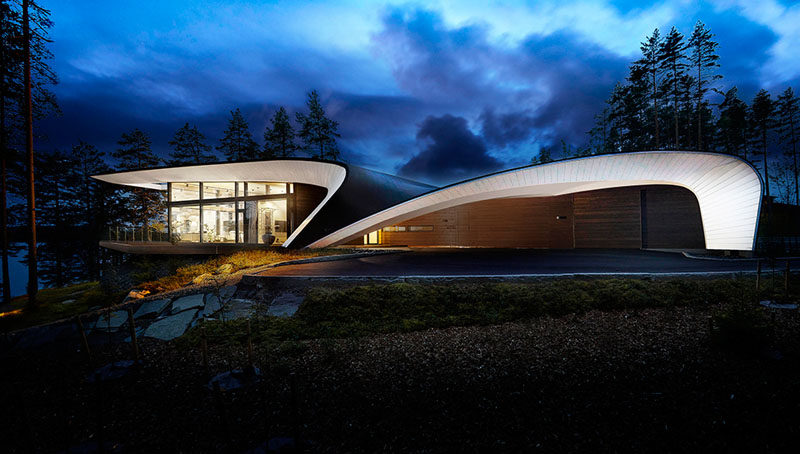 The Shape Of This House In Finland Was Inspired By The Design Of Planes And Boats
Photography by Hans Koistinen   Finnish architect Seppo Mäntylä has collaborated with Polar Life Haus, a wooden house manufacturing company, to create the Wave House.   The unique curving shape of the house was inspired by the design of...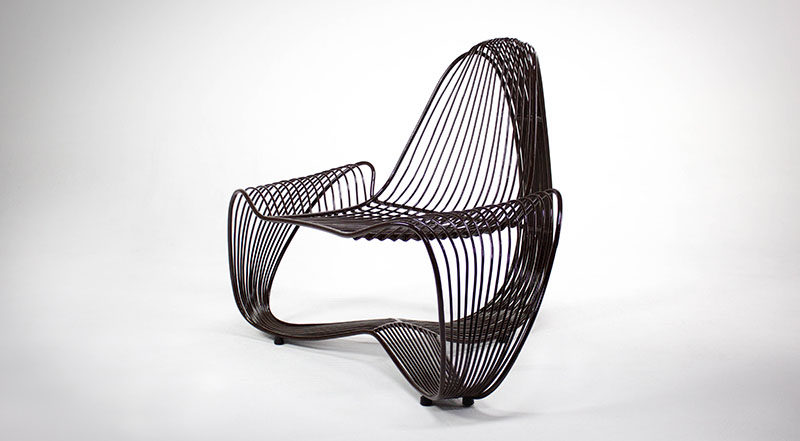 Ernesto Pastore Has Created Conchita, A Metal Chair Inspired By Seashells
  Architect and designer Ernesto Pastore has created Conchita, a modern metal chair that was inspired by bivalve seashells. The name ?Conchita? derives from the Salvadorian Spanish name for seashell, and by using a combination of digital...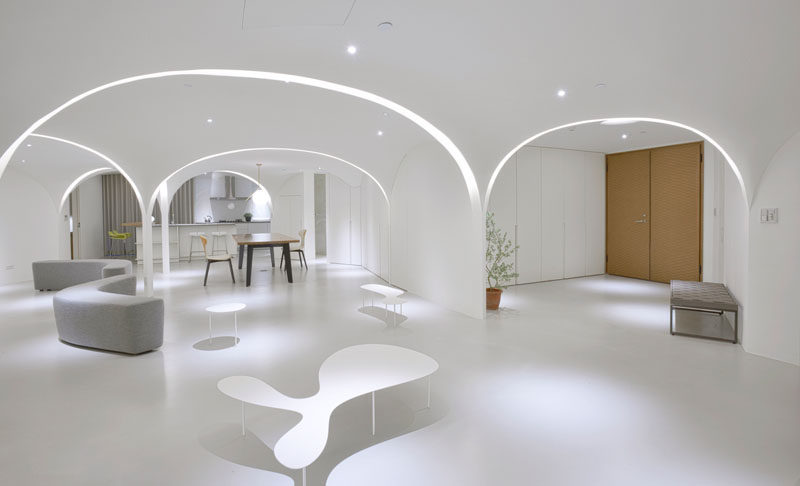 This Minimalist Apartment Has Light-Filled Arches
Photography by Te-Fan Wang   Very Studio | Che Wang Architects have designed the interior of a modern white apartment in Taichung City, Taiwan, that features light-filled arches. Before being re-designed by the architects, the original...