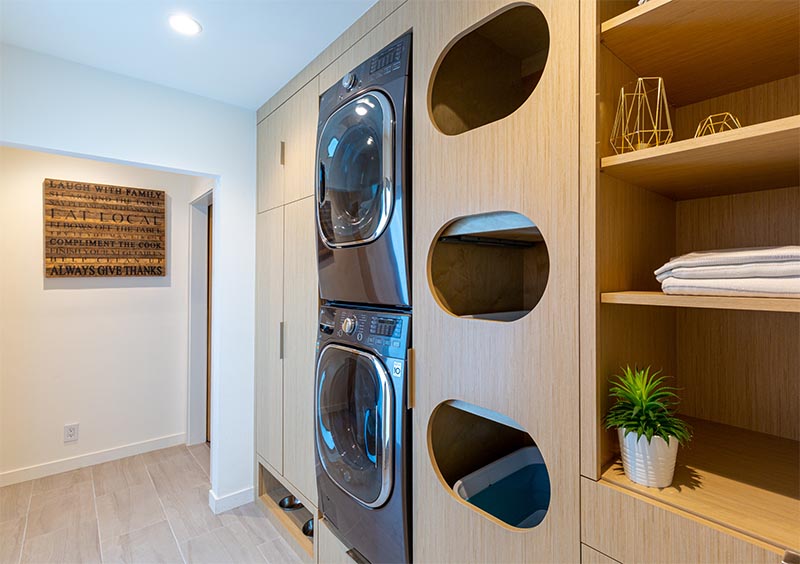 Laundry Room Design Idea ? Add A Built-In Clothes Sorter
Los Angeles based interior designer Kelly Shepard, has created a laundry room with built in components to make cleaning clothes easier and more organized. Some of the key design ideas she included are the separate cubbies for sorting clothes,...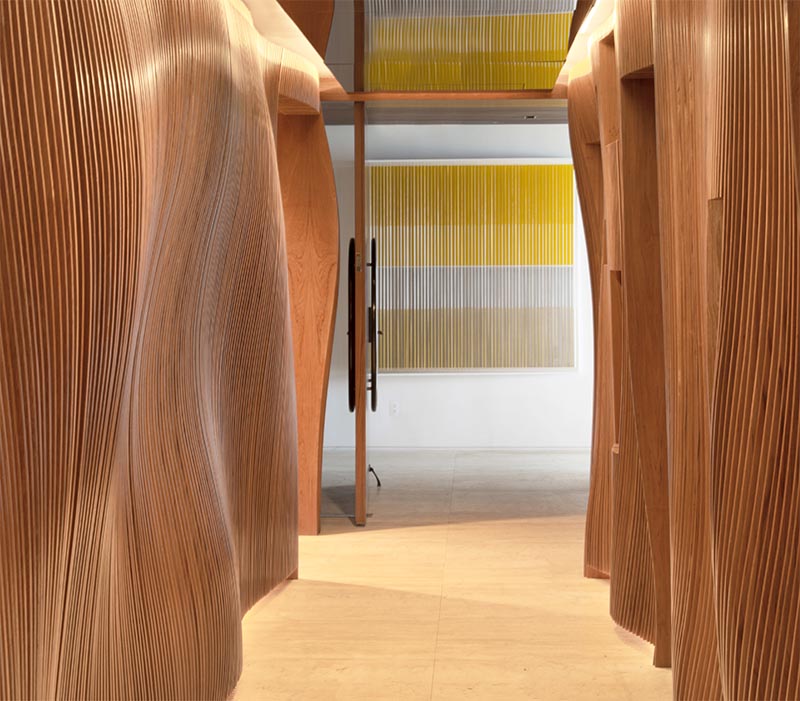 A Wavy Sculptural Hallway Greets Guests As They Arrive At This Apartment
Fernanda Marques Arquitetos Associados has designed an apartment in Miami, Florida, and as part of the design, they included an eye-catching sculptural hallway. The wavy wood walls and travertine floors greet guests as they arrive at the hallway,...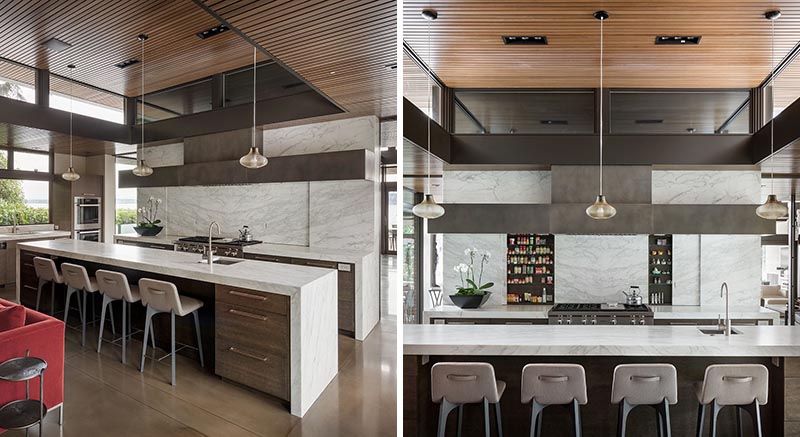 A Hidden Spice Rack Keeps This Kitchen Uncluttered But Always Ready For Cooking
In a Seattle house designed by Stuart Silk Architects, there's a hidden design detail in the kitchen that deserves some attention. Spice racks and shelves are often overlooked, however in this kitchen there are two sliding panels neatly...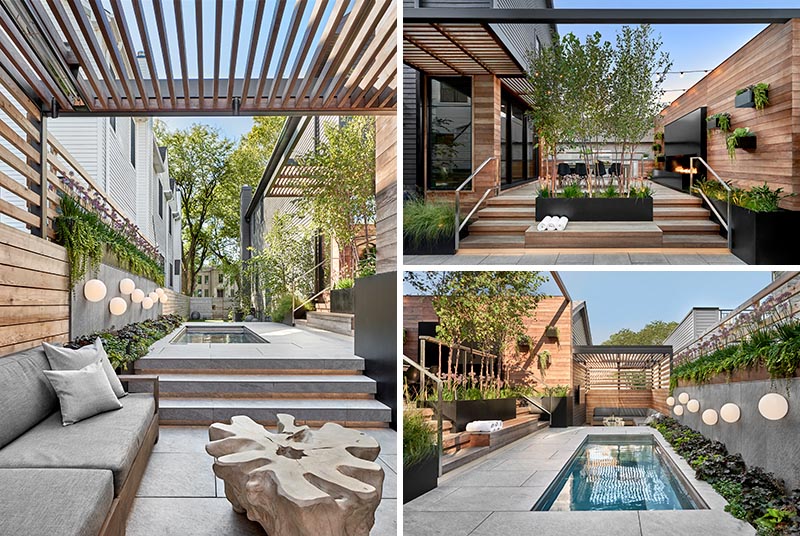 This Home?s Impressive Outdoor Oasis Includes A Kitchen, Dining Area, TV Lounge, Spa, And A Large Fi...
Chicago based architecture firm dSPACE Studio, has designed an outdoor space for their client who wanted a place to relax and entertain. Their client's vision was to transform the yard to promote an open-air lifestyle that reminded them of...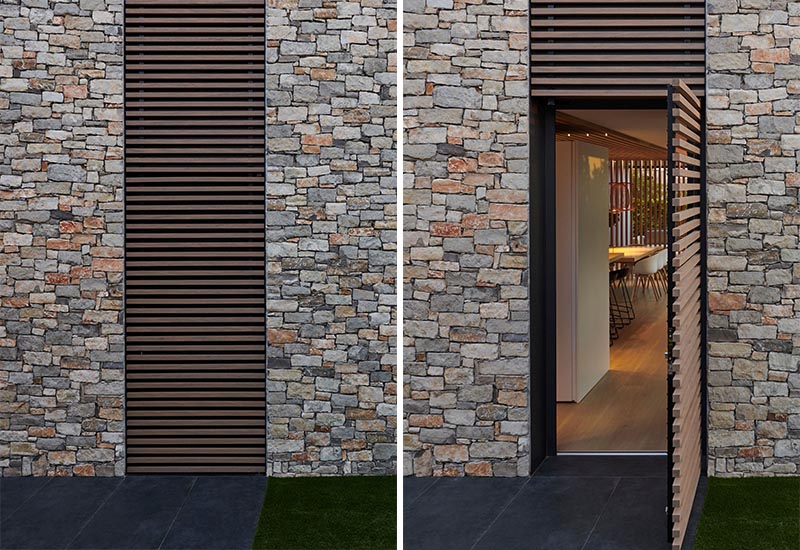 A Secret Door Is Hidden On The Exterior Of This House
Roberto Oblatore and Valeria Soragni of White Houses Costa Dorada, together with interior designer Susanna Cots, have completed a house in Cambrils, Spain, and as part of their design, they included a wood slat accent that stands out from the...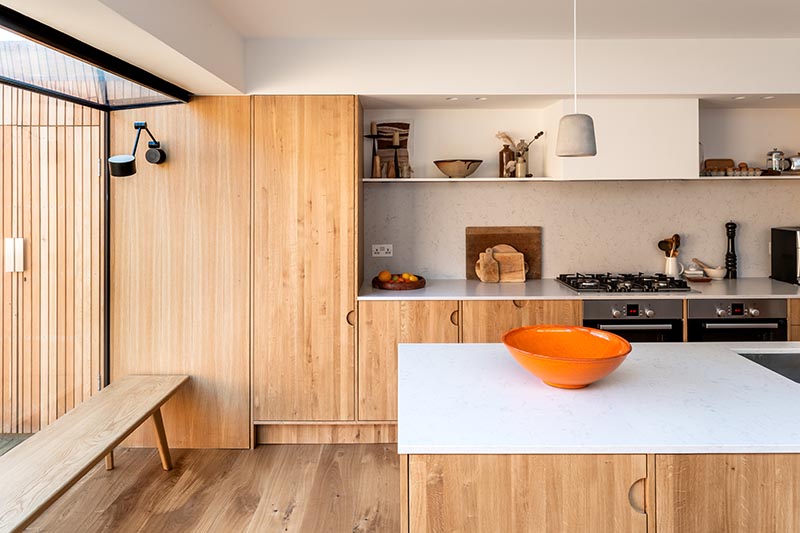 No Hardware Is An Often Overlooked Option For Kitchen Cabinets
Architecture firm Bradley Van Der Straeten has designed a brick extension for a house in London, England, and as part of the interiors, they included a modern wood kitchen without hardware. To stay within their budget, the designers created a...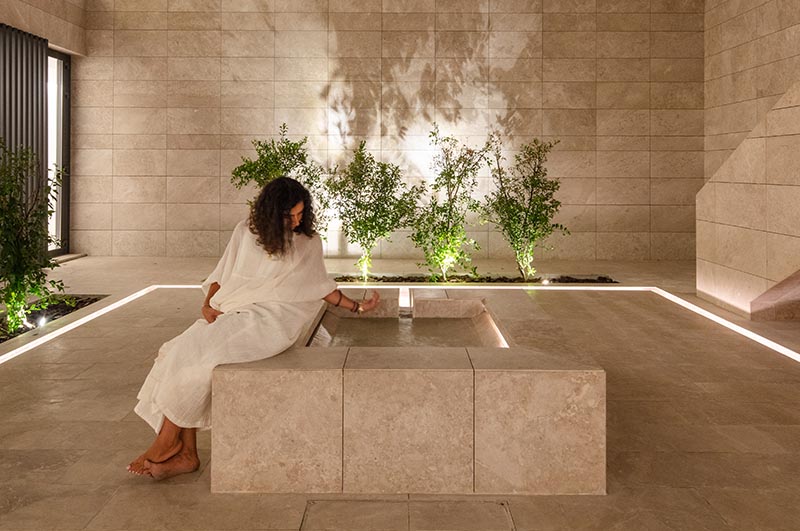 Lighting Embedded In The Floor Adds A Dramatic Glow To This Internal Courtyard
When Studio Toggle was designing the Mishref House for two brothers in Kuwait City, they decided to include an internal courtyard that separates two separate living units. The courtyard, which is a central gathering place for the brothers and their...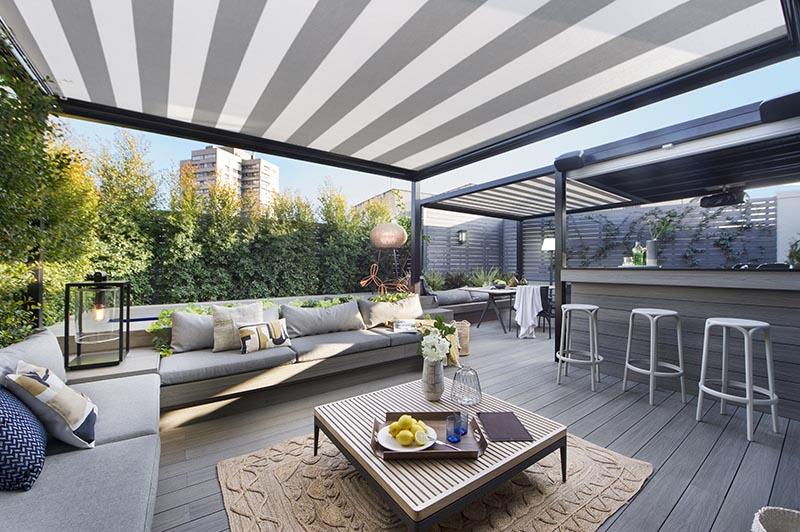 Cover Outdoor Spaces With Shade To Protect The From Sun And Rain
As part of the design of an apartment in Barcelona, Egue y Seta created an outdoor terrace that's ideal for entertaining. A built-in lounge was designed for conversation or relaxation, with the surrounding plants providing privacy. The lounge...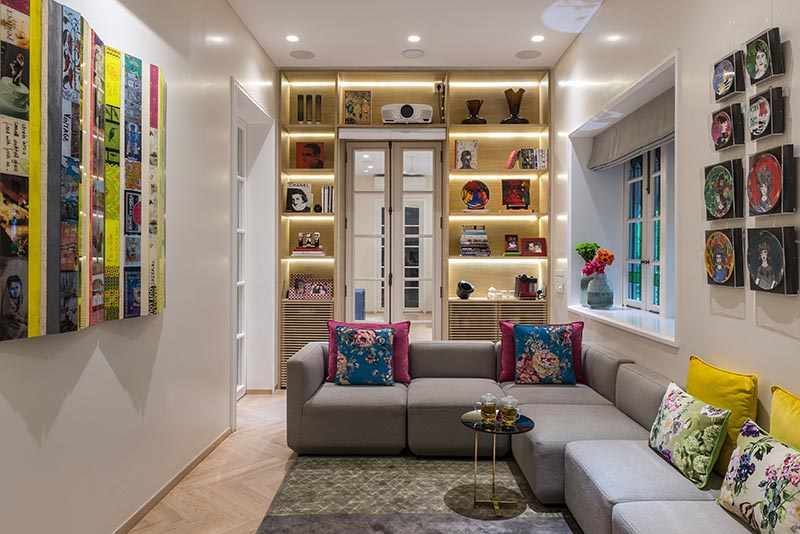 Shelving Idea ? Wrap Shelves Around A Doorway
In a home designed by Atelier Design N Domain, the designers chose to include custom-designed light wood shelving that wraps around a doorway, connecting the reading room with the media room. On the other side of the doorway, there's even more...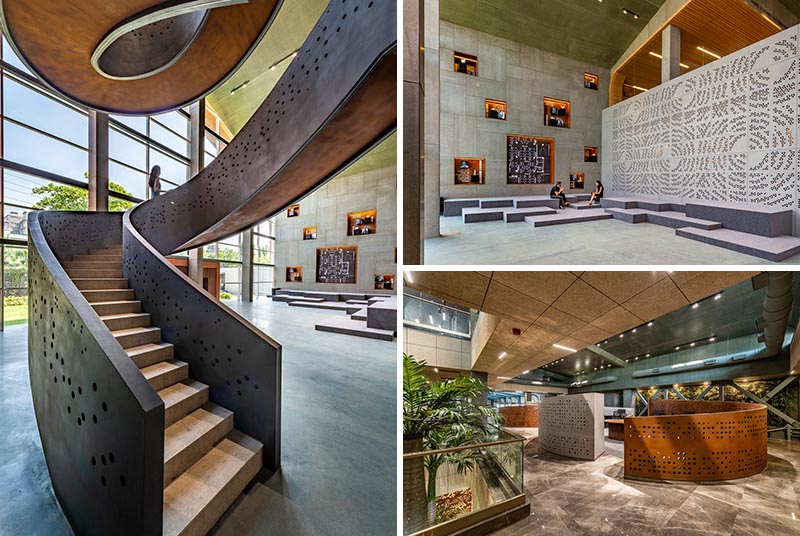 Perforated Accents Add An Artistic Flair To This Workplace Interior
Sanjay Puri Architects were tasked with designing an office in Mumbai, India, and as a way to add interest to the interior, they included perforated accents in three different areas. The first area is an open and expansive reception space...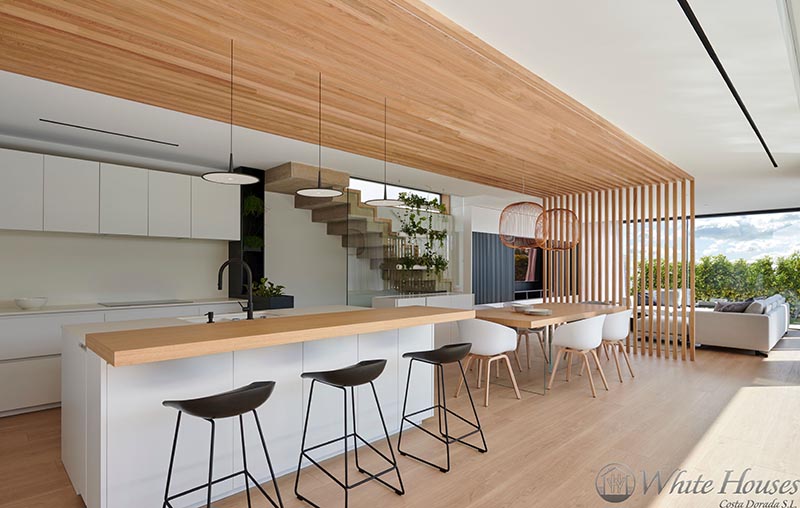 This Combined Kitchen And Dining Room Is Defined By An Overhead Wood Accent
Kitchens and dining rooms are often combined in an open floor plan, much like this example by White Houses Costa Dorada together with interior designer Susanna Cots. In this home, they connected and defined the two areas with a wood slat accent that...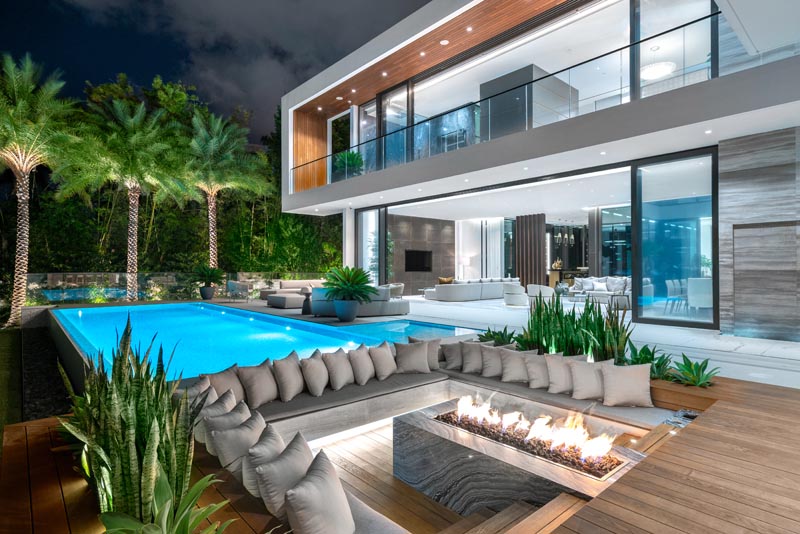 A Sunken Lounge Around A Fire Is A Great Way To Create A Relaxed Outdoor Vibe
Choeff Levy Fischman has designed a modern house in Miami, Florida, and as part of the design, they included an outdoor entertaining area with a sunken lounge. The sunken lounge, which sits between the infinity-edge pool and covered kitchen/dining...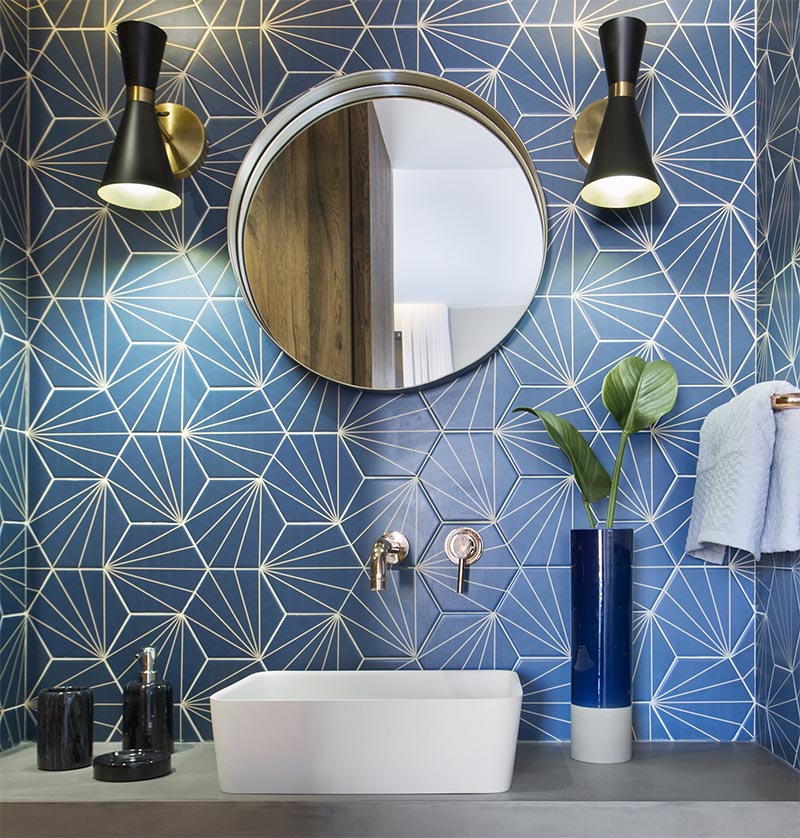 Bathroom Design Ideas ? A Blue Starburst Tile Demands Attention
When Egue y Seta was asked to design the interiors of a modern apartment in Barcelona, Spain, they made sure that one of the en-suite bathrooms had an eye-catching design. Located through an open doorway in the bedroom, the bold choice of a bright...
This Bridge House Spans Over A Small Stream In Los Angeles
Dan Brunn Architecture has recently completed a house in Hancock Park, Los Angeles, that has an exterior of muted cedar with black steel accents and plenty of custom windows. Welcoming visitors to the home are a pair of pivoting glass front doors...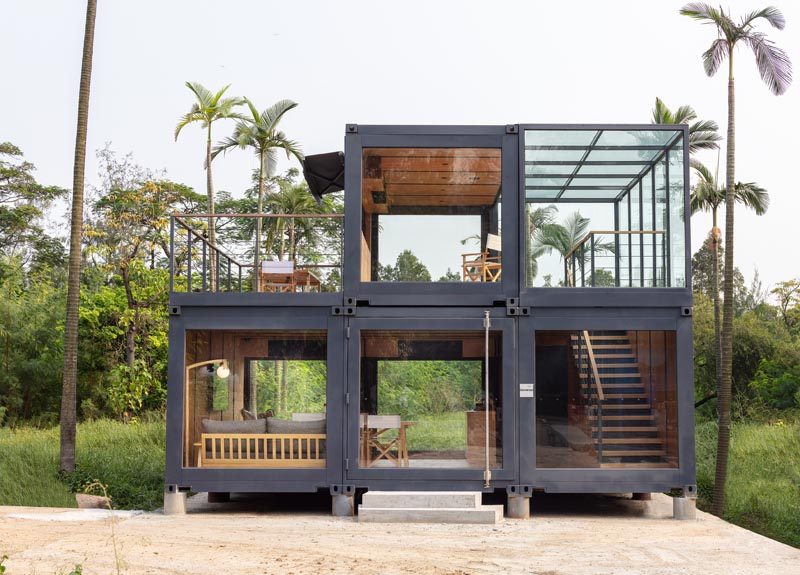 Four Shipping Containers Have Been Used To Create A Marketing Suite
Branding and design firm Substance, has created a marketing suite for Goodman Westlink, that's been made using four shipping containers. Combined, the shipping containers create six different areas to allow for flexibility as the site changes....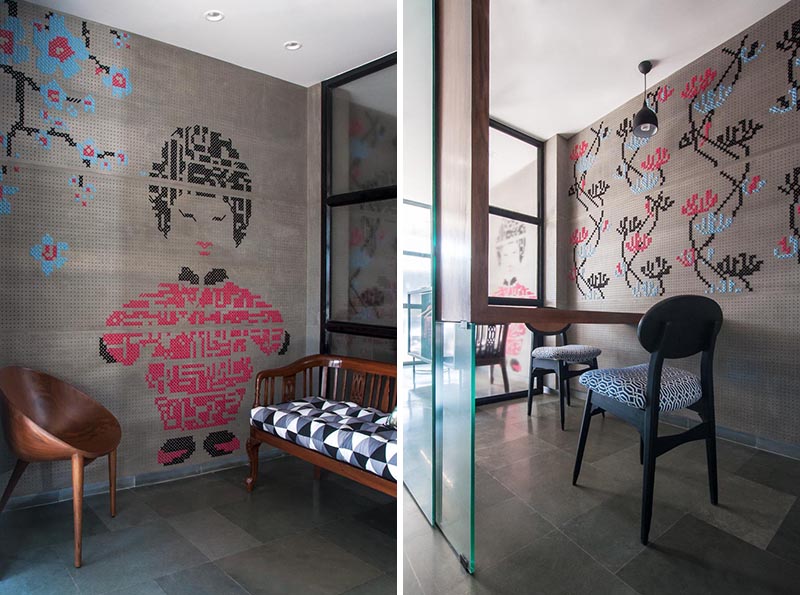 Cross-Stitch Murals Adorn The Walls Of This Shop In Mumbai
When MuseLAB was tasked with designing an interior for a shop in busy Bhendi Bazaar, they decided to add colorful embroidered walls. The structure of the building is old and the walls were fragile, so the designers reinforced the ceiling beams and...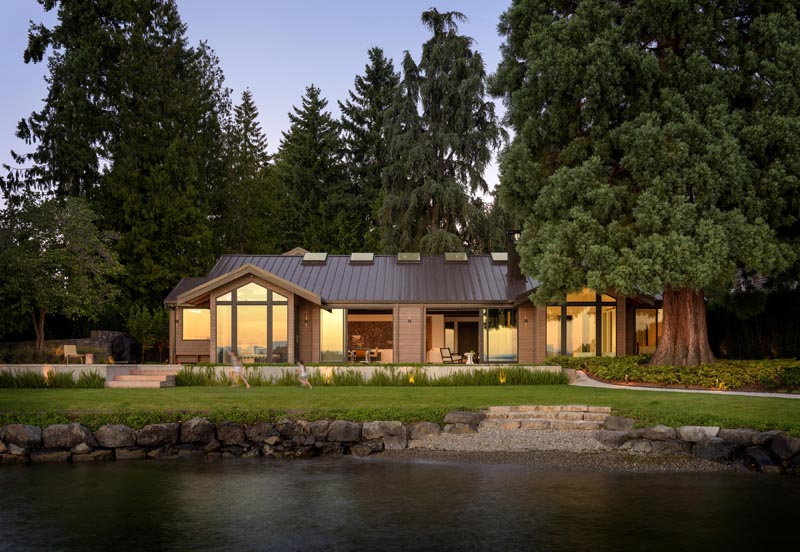 A Contemporary Remodel For A Lakeside Home In Washington State
Architecture firm Olson Kundig, has designed the remodel of a dated "log cabin" inspired ranch house and created an open, flexible and view-oriented home for an active young family. The building?s former rustic "lodge style"...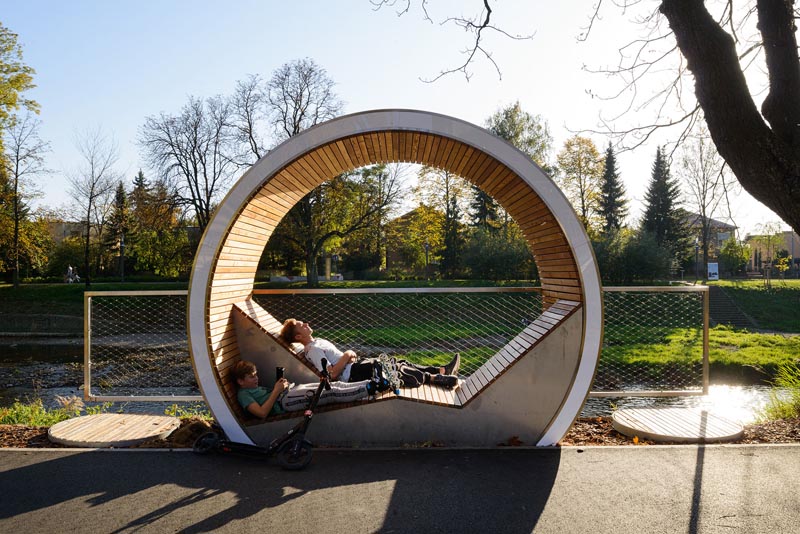 Circular Seating Along This River Help Locals Learn The History Of The Area
Architect Robert Skitek of RS+ has designed a series of public seating shelters that line a walkway along a river in Cieszyn, Poland, that's also the border with the Czech Republic. Provided with a very narrow and abandoned strip of land on...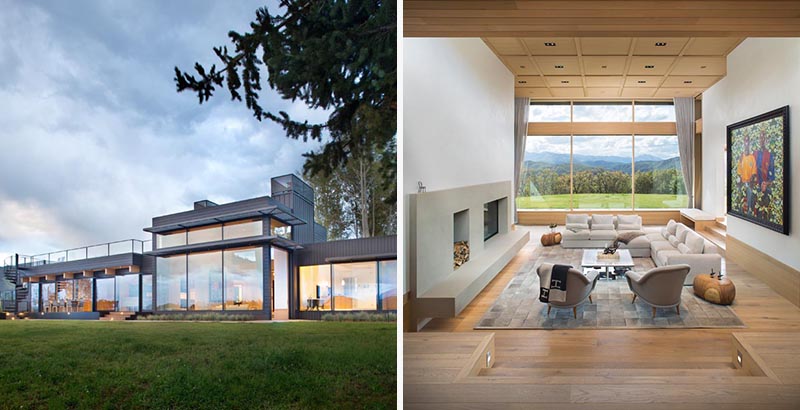 A Sunken Living Room Creates A Distinct Sense Of Place In This Colorado Home
Architecture and interior design firm Rowland + Broughton, has designed the renovation of a family house in Aspen, Colorado. The home's original architect, Ellie Brickham, built this home in 1968. The renovation aimed to thoughtfully blend the...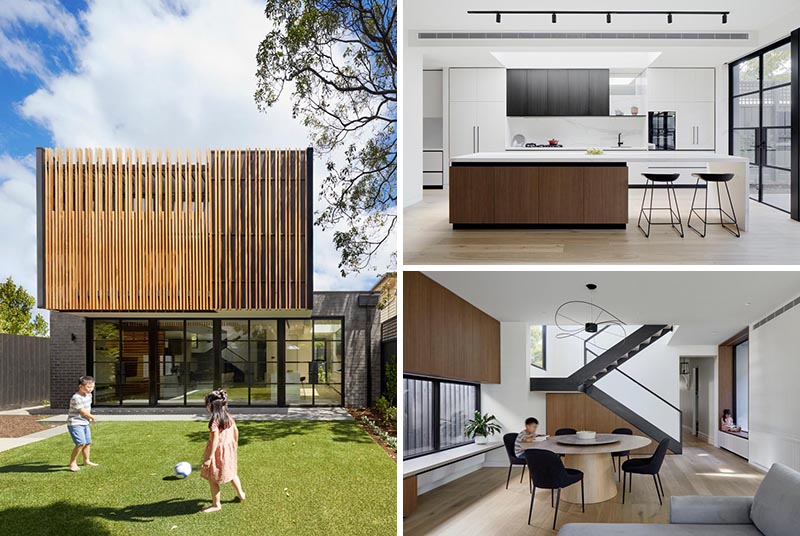 A Double-Height Extension Was Added To This Victorian Terrace House
Chan Architecture has designed a double-height extension for a Victorian terrace house in Melbourne, Australia. The idea was to retain the character of the period home at the front of the house, while adding a spacious, light-filled modern extension...
Frosted Glass Partitions Were Used To Create A Hallway In This Apartment
Grupo Garoa Arquitetos Associados has designed an apartment renovation in Sao Paulo, Brazil, and as part of the interior they included frosted glass partitions. The hanging cabinet and mid-opacity frosted glass partitions define the...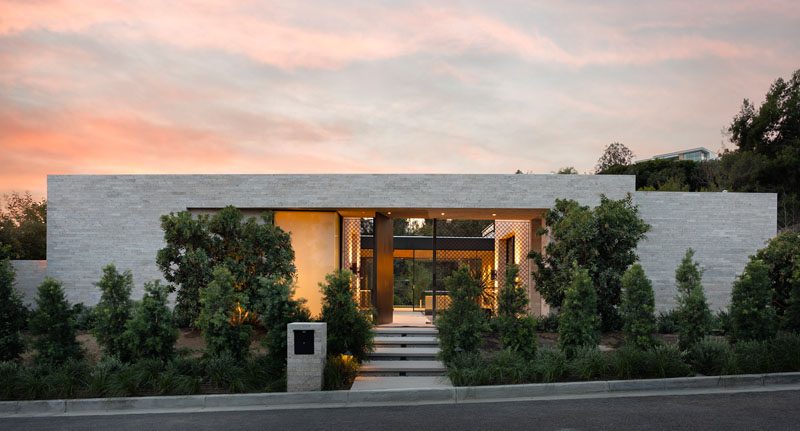 Italian Stone Covers The Exterior Of This Beverly Hills House
Photography by Simon Berlyn Photography Designer Lindsay Chambers and architect Paul McClean have collaborated to design this new modern house in Beverly Hills, California, that features a facade of Italian stone. Stepping inside the front door, and...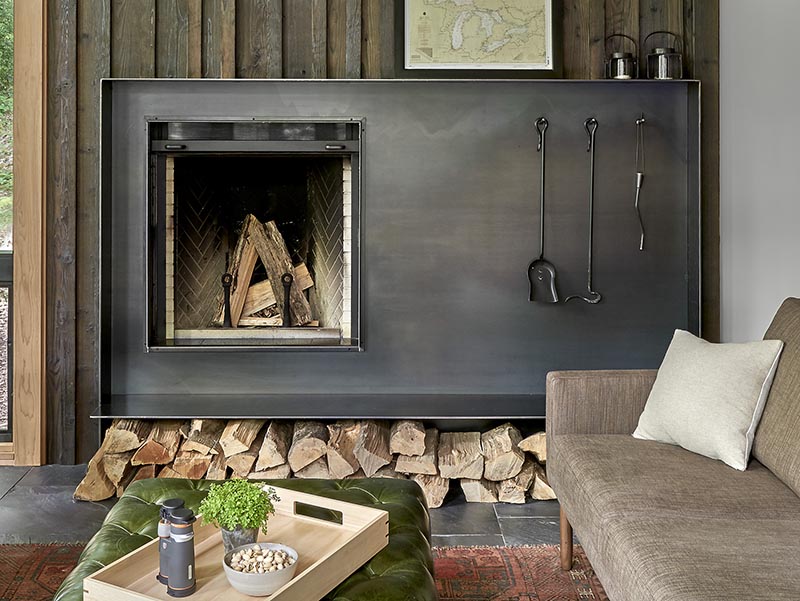 Design Detail ? Blackened Steel Fireplace Surrounds Add An Industrial Touch
When Searl Lamaster Howe Architects designed a weekend retreat in Jones, Michigan, they decided to include two eye-catching steel fireplace surrounds. The first fireplace has a backdrop of a charred cedar accent that helps to highlight the...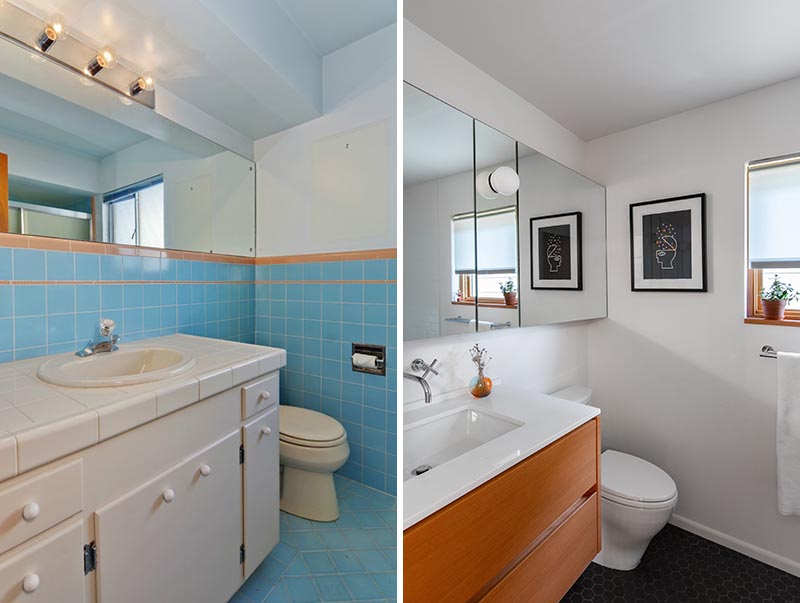 Before & After ? This Small Bathroom Was Redesigned For Today?s Standards
As part of a renovation project, Seattle-based SHED Architecture & Design transformed a dated bathroom and brought it up to today's standards. The original bathroom featured blue and peach tiles, a cream-colored vanity with a matching sink...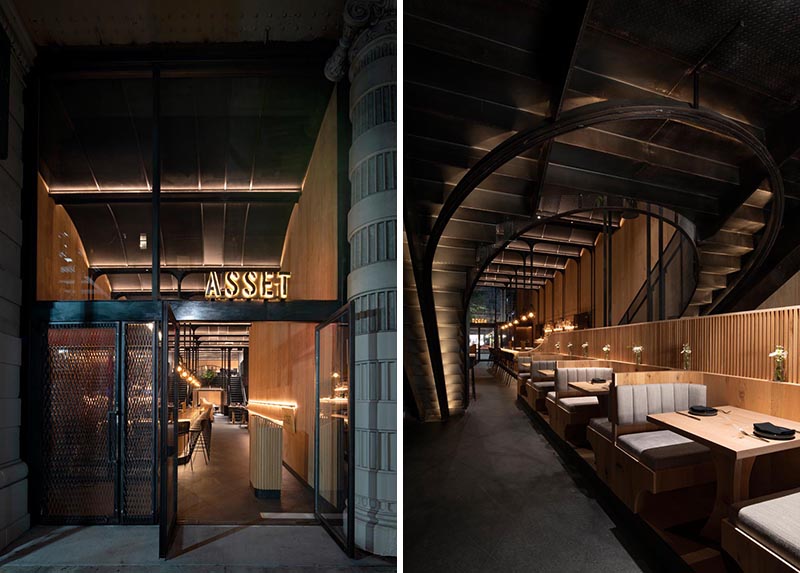 Extensive Use Of Hidden Lighting Gives This Restaurant A Warm Glow
Bates Masi + Architects has designed 'Asset', a new restaurant in Manhattan, that's located within an old building that had architectural details hidden behind years of renovations. "In the renovation of 329 Columbus Avenue...